I'm jealous of most other bloggers travels, but there's one or two that i'm insanely jealous of … to the point where I sometimes consider blocking them on twitter, just so that I dont have to watch as they embark on epic adventures whilst I generally stare at a computer screen from 9-5 each day and work out invoices for a living.  The swines!
Chris here, aside from being a jolly nice bloke, is one of those people who unknowingly mocks me with his awesome travels. Read the below and you'll understand where i'm coming from.
(also note I have not blocked him on twitter, that would be harsh and stupid.  Follow follow follow!)
HI, AND WHO MIGHT YOU BE?
1. Name? Chris Stevens
2. Age? 25 (eeepppp I feel old now!)
3. Twitter Handle? @bckpackerbanter
4. URL? www.backpackerbanter.com
5. Home Town? Devon, England (not a town as such but I'm proud of being from the Shire!)
6. Current Location: Bali, Indonesia
7. … Business or pleasure? bit of both…I do a bit of work inbetween surfing and drinking!
8. Tell us a little bit about what you're up to at the moment. Best bits, worst bits etc.
I'm currently on the second half of my RTW trip this year – started in South America and currently making my way through Asia on the way to NZ. Best bits? Probably landing my dream job as a surf instructor in Ecuador – was amazing! Worst bits – definitely my buddy getting his drink spiked in Vang Vieng – he's ok though!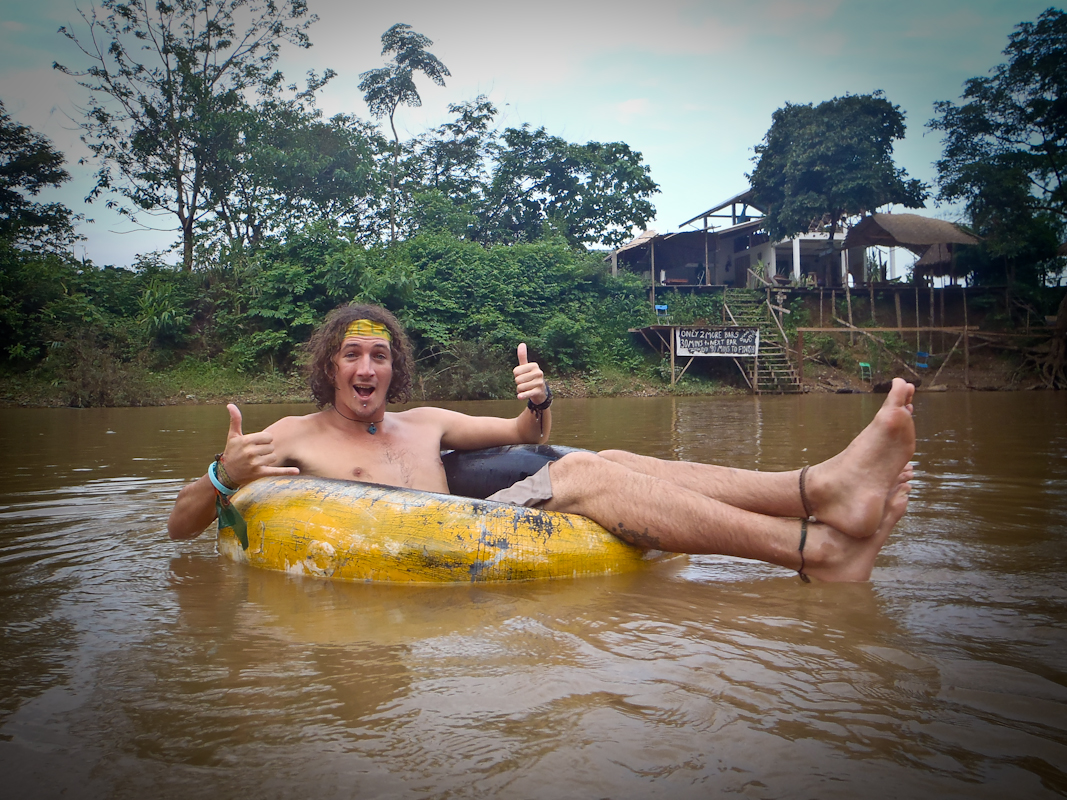 LETS TALK TRAVEL
9. First travel experience?
Solo wise it would be to Ecuador during my degree about 6 years ago, but my parents were nice enough to take me on holiday to places around Europe whilst I was younger
10. Future travel plans?
Well travel for as long as possible really! I've got no real plans after landing in NZ sometime next year and no real reason to head back to the UK – so it could be an interesting ride!
11. If you could go anywhere tomorrow where would it be and why?
Byron Bay in Australia – I love that place!
12. If you could avoid going anywhere tomorrow where would it be and why?
Home! Although the surf in north devon isn't looking too shabby at the moment!
13. What 5 items would you not go travelling without?
ipad, macbook air (yes I'm a massive Apple geek!), my ENO hammock and a whole heap of music/movies on my hard drive.
14. Best bit of advice you've received?
take half the stuff and twice the money!
(easier said than done!)
15. Worst?
hmmm….im not sure if i've been given any bad advice, I guess if i have i've simply ignored it!hahaha!
16. Best bit of advice you can give readers of this piece?
Always have a plan – it doesnt matter if you stick to it or throw it out of the window within 5mins of boarding a plane. That way you'll make the most of your time and money – but make sure you allow flexibility so you can take opportunities if they arise.
RANDOM
17. Favourite ice cream flavour? rum and raison
18. Apple or Andriod? Apple all the way!
19. Blogger or WordPress? WordPress
20. Hostel or hotel? Hostel – gotta love sleeping with strangers!
21. Guilty pleasure? Technology…I'm heaps bad with spontaneous purchases!
22. Your chosen super-power? Breathing underwater
23. Airplane seat – isle, centre or window? Window please
24. What song/album are you listening to right now? Another Mans Shoes by The Movement
SHAMELESS PLUG
25. Thank you for answering my questions, as a gesture of thanks I allow you one whole paragraph to shameless plug of your website …
Yaaaaaaay! Basically on my site you'll find heaps of reviews and advice from my RTW trip (you can find out more about it on my About Me page) as well as a good lashing (jesus I sound very British here!) of the chaos I cause along the way – and it goes without saying that there will be some surfing chucked in their too :) You can also follow it via my Facebook page – www.facebook.com/backpackerbanter
---
WANT TO BE NEXT?
If you'd like to be interviewed for www.backpacksandbunkbeds.co.uk just drop me an email (neil@backpacksandbunkbeds.co.uk) and we can easily arrange something. I do have a few rules though …
No more than 3 backlinks in your piece (not including the questions 3 and 4, you get those for free).
Once published on my site, the interview must then be linked somewhere on your own site.
Once published on my site, you should visit and 'like' my facebook page. (shameless i know)
I reserve the right remove any answers or links that I deem unsuitable for my site.